VICTORINOX REPLICA 1897 PENKNIFE LIMITED EDITION 125 ANNIVERSARY
Karl Elsener creates the Original Officer's and Sports Knife.
As a supplier of officers' knives to the Swiss Army, Karl Elsener wanted to develop a lighter and more elegant model for officers. In 1897, he trademarked the knife under the name "Officer's and Sports Knife," and invented an attitude at the same time.

Celebrate the 125th anniversary of the Swiss Army Knife with the 1897 Limited Edition Replica.
The development of the replica began with a search through our archive for the specifications of the first official and sports knife. We apply today's production process to individual parts to increase precision. And the final assembly was done by hand, just like it was in 1897. The result is refined and more elegant.
---
THE ORIGINAL OFFICER'S AND SPORTS KNIFE
---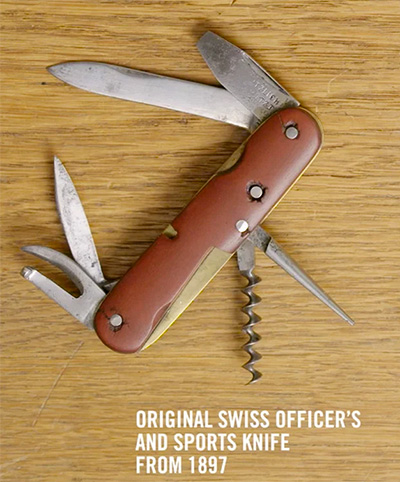 6 tools, 18 components
With a long blade, a short blade/file, a screwdriver, a needle, a can opener and a corkscrew, the original was made from 18 components.
HACKS
Since our iconic emblem was not introduced until 1909, the Original Officer's and Sports Knife does not include the typical Victorinox trademark on its scales.
STEEL
The original was made of carbon steel, because we didn't start using stainless steel until 1921. Before then, it was too expensive to come by and hard to work with.
---
THE LIMITED EDITION 1897 REPLICA
---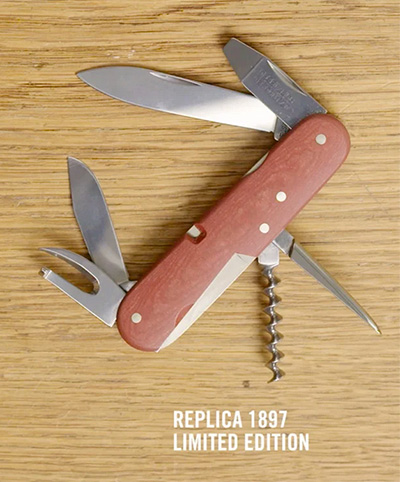 6 tools, 18 components
Today's model has the same amount of features and its tools work the same as the original: although we have improved the security of the springs to open and close it.
HACKS
Today's scales are also made from vulcanized fiber and we've left out the Cross & Shield for a true look that's a reflection of the original.
STEEL
We've used stainless steel for the blades of our knives since 1922. And to make sure your Replica 1897 will last you a lifetime, of course, we've also made the blades out of stainless steel.
---
VICTORINOX REPLICA 1897 LIMITED EDITION CHARACTERISTICS
---
TOOLS
- Reamer punch
- Can opener
- Small leaf
- Corkscrew
- Large sheet
- 5mm screwdriver
DIMENSIONS
- Height: 15 mm
- Length: 91 mm
- Width: 24mm
- Weight: 82 gr
DETAILS
- Handle material: Vulcanized fiber
- Features/tools: 6
- Colour: Red
---
VIDEO